Our Web-Based Delivery Model
PBM delivers and manages web applications and computer services from remote data centers to multiple users via the Internet. Obtaining these web applications via the Internet is a cost-effective alternative to the customary demands of systems ownership: up-front capital expenses, implementation challenges and a continuing need for maintenance, upgrades and customization.
PBM gives customers a viable alternative to procuring and implementing complex systems themselves. PBM even provides customers with a comprehensive alternative to building and managing internal information technology operations. Our customers also are able to control more precisely the total cost of technology ownership through scheduled payment schemes. And with your application processing performed off-site by PBM, our clients can focus on their areas of core expertise.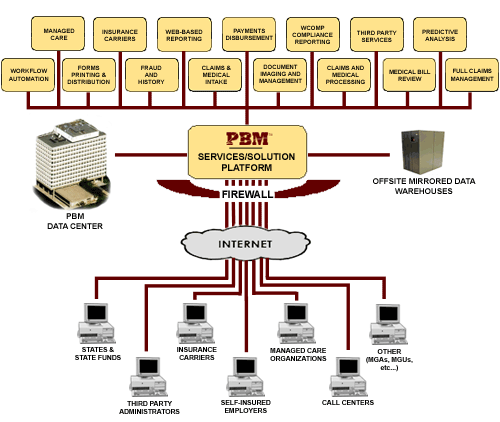 Benefits From Our Web-Based Delivery Model Include:
Speed To Market: PBM already has the equipment, applications and expertise ready to provide rapid market access.
Real-Time Connectivity: Our web-based system leverages real-time connectivity to link employers, providers and system users at remote locations. PBM provides instantaneous access to information that revolutionalizes the way our clients communicate and process information. Once information is inputted, it can be viewed, routed faxed, emailed or printed by authorized personnel from any PC with an Internet Connection.
Operational Freedom: By outsourcing application management, the client can focus critical resources on their core business function.
Improved Performance: PBM applies their vast experience to implement best IT practices for superior levels of availability, security, backup, disaster recovery and help desk financial flexibility: our model reduces fixed costs and lowers overall expenditures for hardware, applications and management.
Reduced Risk: With no capital expenditure on software, hardware and IT personnel, organizations can "test" a new technology with minimal impact to their existing environment and bottom line.
Dependable: Our system operates on the IBM AS/400. The AS/400 provides 99.9% availability and is one of the industry's most reliable servers. PBM backs up all data on mirrored IBM servers to insure complete disaster recovery and our web-based software availability means no business interruption or emergencies to leave you inoperable.
Secure: Our web-based delivery model has by design, near faultless, built-in system security. Data is transferred to and from our servers using military grade, 256- bit encryption and our proprietary browser software and Virtual Private Network (VPN) technology maintains the integrity and security of our clients' information. Designed to be hacker and virus resistant, using the AS/400 will dramatically reduce the potential for costly security breaches.